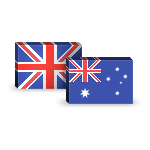 If you're interested in the stock market, you may have come across the term "dividends". While quite common in the financial world, the concept of dividends and how to utilize them for investment on a trading platform could be somewhat elusive. Dividends are given based on each shareholder's
...
Mostra di più
Traduci
Closed our $GBPUSD long with gains over 100 pips along with. $GBPAUD which was also closed with over 100 pips. As mentioned previously we remain bullish on sterling against US dollar and have been buying dips. The pair is now approaching 1.4000 level and if stays above we may see it testing previous
...
Mostra di più
Traduci
$GBPAUD The Pound Australian Dollar (GBP/AUD) exchange rate has fallen today as a risk-on market mood is benefiting the risk-sensitive 'Aussie.' At the time of writing the GBP/AUD pairing are trading at around AU$1.7885. Pound (GBP) Exchange Rate Lower Despite Upbeat UK Economic Market Mood The Pound
...
Mostra di più
Traduci