Providing more than just the ability to buy and sell crypto, we provide a suite of unique trading features:
CopyTrader™
You can allocate funds to copy the moves of Popular Investors on eToro — it's a great way to access the expertise of others to your advantage!
Discover other traders to copy by selecting Copy Traders in the menu. You can browse Popular Investors stats like percentage of return, what coins they trade, risk level, and more.
Get Started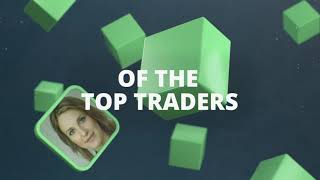 Portfolios of Cryptocurrencies
We provide ready-made portfolios of cryptocurrencies. Each portfolio uses a different methodology, but all of them are monitored by eToro's investment committee. If you're interested in adding crypto to your list of assets, try a Smart Portfolio.
Learn More
The Popular Investor program
To build a strong community of traders and to encourage successful traders to share their wisdom, eToro has created the Popular Investor program. This program rewards successful members of the eToro community for being copied. Simply put, the more copiers they have, the larger their payout. The payments to Popular Investors are given on top of any profits made from trading and can reach as high as 2% of their total AUM (assets under management).
The democratization of financial knowledge has created a situation in which anyone who puts in the time and effort to study markets and build a solid trading strategy can potentially become successful. Therefore, it is no surprise that Popular Investors come from all walks of life and the program has enabled many eToro traders to earn a second income regardless of their financial background.
Become A Popular Investor
The Social News Feed
Incorporating elements from the worlds of social media and online trading, your News Feed helps you follow the financial instruments and traders you like, interact with fellow members of the eToro community, start discussions, and much more.
Just like on any social network, you can post your own updates (and even tag the assets or people you're talking about), share posts to your feed, comment on others' posts, and gradually create a feed that is tailored to your trading interests.
You can also opt into notifications like when an asset on your watchlist becomes volatile, or when someone you're copying posts an update. Notifications appear both on the web platform and as push notifications straight to your mobile device.
Extending beyond the eToro platform
Since eToro places such high emphasis on open discourse and wisdom sharing, the platform also offers social features that reach outside the platform itself. For example, traders can easily share their trading decisions and actions on other social networks, such as Facebook and Twitter. In addition, you can use the platform's advanced technical analysis features to create your own charts to support your trading actions, and share them both on or off eToro.
eToro keeps a friendly, professional and pleasant community by requesting all of its clients to adhere to the Community Guidelines.
Privacy and security
To make sure your information and funds are secure, we employ several cybersecurity measures, encryption techniques, and hold your funds in banks — so you know that your eToro trading experience is safe and secure.
To learn more, check out our Privacy Policy.
Are you ready to take your first steps, join the Fintech revolution, and explore the endless possibilities offered by social trading?
Sign Up Now
eToro USA LLC; Virtual currencies are highly volatile. Your capital is at risk.