CRK
Comstock Resources Inc
Comstock Resources Inc price
Comstock Resources Inc Latest News
View All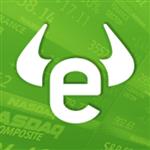 REPORTS
Comstock Resources Inc Q3 2023 earnings report is expected to be released after market open
CRK
Comstock Resources Inc
About Comstock Resources Inc
Comstock Resources is an energy firm that focuses on developing and extracting oil in the US. It operates in Texas, Louisiana, and North Dakota. Headquartered in Frisco, Texas, the company was founded in 1983 and trades with the ticker CRK on the NYSE. Learn more about this stock by reading the latest CRK news on eToro.
Show More
---
Upcoming Events
REPORTS
Comstock Resources Inc Q3 2023 earnings report is expected to be released after market open
Get insight into a company's sustainability using ESG (environmental, social, and governance) scores.
---
Business Involvement Flags
Companies in the energy industry, encompassing oil and gas exploration and production, pipeline transportation, refineries, and oil and gas equipment and services. Wholesalers which provide electricity generated by hydrocarbon and nuclear technologies. Natural Gas Utilities which offer service to residential and commercial customers. Companies involved in the leasing of coal mines and the mining and processing of coal. Companies producing coke for sale to others are included.