KNDI
Kandi Technologies Group Inc
Kandi Technologies Group Inc price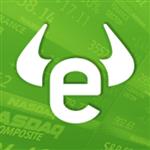 REPORTS
Kandi Technologies Group Inc Q3 2023 earnings report is expected to be released before market open
KNDI
Kandi Technologies Group Inc
About Kandi Technologies Group Inc
Kandi Technologies is an automotive company that offers off-road vehicles, such as all-terrain vehicles, utility vehicles, and go-karts. The company also offers electric scooters, air conditioners, and electric vehicle parts. Founded in 2002, the company operates internationally and has headquarters in China. It is listed using the KNDI ticker on the NASDAQ GS stock market. Find the best time to buy KNDI stock by tracking it with your eToro watchlist.
Show More
---
Upcoming Events
REPORTS
Kandi Technologies Group Inc Q3 2023 earnings report is expected to be released before market open
Get insight into a company's sustainability using ESG (environmental, social, and governance) scores.