REPORTS
VICI Properties Inc Q4 2022 earnings report is expected to be released after market open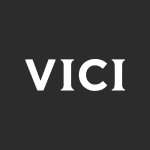 About VICI Properties Inc
VICI Properties Inc. is the owner and developer of premium grade gaming, hospitality and entertainment destinations that provide exceptional customer experiences. VICI partners with leading brands such as Caesers, Hard Rock and Horshoe at leading entertainment destinations across the US. Founded in 2017 the fund is head quartered in New York. Vici Properties Inc is classified as a Real Estate Investment Trust (REIT) and is listed on the New York Stock Exchange under ticker, NYSE: VICI. As of 2020, Vici Properties had 22 gaming facilities, 150 restaurants, bars and nightclubs, over 50 retail spaces and 14,800 hotel rooms totalling over 45 million square feet of space. VICI Properties also owns four golf courses. The VICI share price posted an all-time high in Feb 2020 and the the firm has generated a 5.10% dividend yield for investors. The company values partnering with brands that lead in customer relationship management (CRM) systems to ensure optimal success. It focuses on providing luxurious spaces for reliable tenants. Its tenants have large loyalty programmes for guests and are well-known names in their industries. VICI provides data that shows long-term strenght of demand for gaming in Las Vegas, where many of its properties are located. Though the geo-political risks of 2020 have highlighted the risks involved with operating in a specialist sector in 2007, the Las Vegas Strip occupancy was at a record 97%, and in 2017 it held steady at 91%. For more updates on the VICI share price add this stock to your eToro watchlist.
Edward Baltazar Pitoniak
CEO
Show More
---
Upcoming Earnings
REPORTS
VICI Properties Inc Q4 2022 earnings report is expected to be released after market open
Get insight into a company's sustainability using ESG (environmental, social, and governance) scores.
---
Business Involvement Flags
Companies in the casino, casino hotel, gaming equipment, and horse racing industries. Software with functionality specific to the casino industry.